ALAN MENKEN
"I wanted to be a serious composer, but as a very early age really thought that I couldn't do that because who becomes a composer?"

Born in New York on July 22, 1949, growing up in suburban New Rochelle, Alan Menken was a budding instrumental talent, developing an early interest in Beethoven and Brahms, later taken by the new folk movement, all the while adding rock'n'roll, and virtually anything else his ever-expanding musical universe.
Above all, it seems that he was basically influenced by Broadway, as he says: "Growing up, I was surrounded by a family that loved Broadway musicals. Regularly, we gathered around my father at the piano, and as he played and we sang, the house was filled with the sounds of Rodgers and Hart, the Gershwins, Rodgers and Hammerstein, Frank Loesser, Lerner and Loewe, and all the other great Broadway songwriters. As a child, I was introduced to the power of the American musical through shows like My Fair Lady, Fiorello, and The Sound of Music".
"I wanted to be a serious composer, but as a very early age really thought that I couldn't do that because who becomes a composer?" says Menken. "Chances were I'd be what every other Menken male in sight was: a dentist. My father was a dentist, my father's father was a dentist, my father's brother was a dentist, my mother's sister's husband was a dentist, my father's sister's husbund was a dentist. I thought that I was my fate."




Soon after graduating from New York University, he worked under Lehmann Ingram, the Music Director at the Musical Theater Workshop, and composed pops, commercial songs, and songs for the theaters. Before long, he met Howard Ashman in New York in 1979 when Ashman, artistic director of the small WPA Theater, was looking for a composer to work with him on a musical version of Kurt Vonnegot's God Bless You, Mr. Rosewater. A mutual friend, Lehman Engel, director of the BMI Workshops program, recommended Menken.
Then, in 1982, he and Ashman achieved great success with Little Shop of Horrors at the WPA Theater. He also wrote a new song "Mean Green Mother From Outter Space" for the "Little Shop" movie in 1986, and nominated for the Academy Awards® (best song).
A bright light of the New York musical theater scene by then, prolific songwriter and composer Alan Menken achieved his greatest recognition and acclaim in the movies: in collaboration with the late Howard Ashman, he helped resuscitate the American movie musical with two wildly popular Disney animated features, The Little Mermaid (1989) and Beauty and the Beast (1991). They brought their Broadway savvy to Hollywood and found a huge, appreciative audience.
After Howard's death, Alan went on with his solo career composing scores for more Disney classics, including Pocahontas, The Hunchback of Notre Dame, Hercules and Home on the Range.


The following is the extended transcript of an exclusive interview conducted with Alan Menken while he was at the Walt Disney World Resort for the 100 Years of Magic press event. It appeared in the January 10, 2002 printed issue of Eyes & Ears, Disney's internal newsletter.
How did you first become involved with The Walt Disney Company?
"I first become involved with the company when Howard Ashman came to me with the opportunity to write The Little Mermaid. We had written "Little Shop of Horrors," and one of our producers was David Geffen, and when [former Walt Disney Studios executive] Jeffry Katzenberg and Michael [Eisner, chairman and chief executive officer of The Walt Disney Company] came to the company, they were looking for new musical theater talent to work on an animated picture.
"They went to David and said 'Who should we get?' and I think David said, 'Get [lyricist] Howard Ashman to come in.' Actually it wasn't [an] animated [product] they were coming to him about. They were coming to him about a number of possible projects.
"There was a rock-film biography, there was a live-action film musical story, animated [projects] and a couple of other things, and Howard said, 'I'd be interested in the animated thing.' Then he came back to me and said 'How would you like to work on a Disney animated musical?' At that time, the form was gone. They said, 'Well, we want to do [it] like the old classics.' They want to do one that could sit on the shelf alongside the old classics, so it was an unbelievable opportunity."
Where do you begin coming up with a musical theme for a Disney film?
"Well, the first thing we do on a project is we'll decide what style, musically at least, what style we want to use as the basic palette for telling the story. In the case of The Little Mermaid, one of the first things we thought about was these production numbers, and what we do with these production numbers. Howard suggested we make this stuffy English professorial choral director Sebastian into a Caribbean crab, thus we could use calypso or reggae. [Directors] John [Musker] and Ron [Clements] absolutely went for the idea, so once we did that the idea of calypso came about.
"What you do is first go to the style, and then go from the style to the particular moment and the kind of song you want to write, and then also, in order to make the joke or make the point, you look at precedent. You look at other songs that people have known about in the past so you have a wink at another style. It just helps to inform people about what you're trying to say. We have a lot of different elements that can give you a leg up on creating a theme.
"But then in the end, I sit at the piano and start from nothing. Sometimes it'll be a phrase, you know, if we're doing Beauty and the Beast, somebody will want to do something that goes 'da-da-da-da-da.' (sings musically the chorus notes of the song "Beauty and the Beast":) Da-da-da-da-da. There's setting a lyric, and when there's a lyric, certainly there's going to be something that helps you hone you even further."
How long does it take you from blue sky of coming up with that theme to where you think you've got all the music you need?
"Sometimes it'll take five minutes. Sometimes it can take a lot longer depending on a lot of factors. First of all, if there isn't a lyric, I'll often give my lyricist a number of different themes, and he'll come back with a lyric for one of them. Sometimes the back and forth can take days until, you know, I'll say, 'Okay we like this, now let's pass it on to the company,' at which point it goes to the directors and the producers. Then you have to demo it. Generally from the time I have an assignment, it's a couple of weeks until someone has heard it and said, 'Yes we love it. Let's go,' or 'Can we try another direction?'"
You and Howard are often credited with helping revitalize the Disney animated films. What are your thoughts?
"It's sort of beyond belief. It's beyond my ability to absorb what it is, the opportunity we were given and what we did with it. It's a little of an out-of-the-body experience because being here for Walt's 100th, I'm still a kid who remembers what it was like to have the Mickey Mouse stuff, you know, and watching the early movies, and to think that I'm now a part of Disney history is really beyond my ability to fathom, and then also when I travel around the world and know that people all over the world know these songs ... That's unbelievable."
What was it like working with Howard?
"Sometimes it was like working FOR Howard (laughs). It was incredible working with Howard. Howard was one of the dearest, one of the most important people to me in the world.
"He also could be unbelievably impatient and a taskmaster. He was brilliant. He knew exactly what he wanted and wanted it before he even got it out of his mouth. He already wanted to have it. Sometimes it frustrated him that he couldn't be the composer because he wanted to control all those elements.
"Howard was somebody who could conceive the general outline of a project, how he wanted to tell a story, what style he wanted to tell it in, then write the book, write the lyrics, cast it, direct it and market it. Howard just had that kind of an understanding. He didn't do all those things but he really thought from the beginning about what it would take for a project to maximize its potential, and reach the greatest number of people, and be thrilling and surprising.
"I miss him greatly. There are so many projects I wish he was a part of now that I'm doing."
Do you have one particular Disney film that you're most proud of working on?
"No. I have different reasons for being proud and happy about each of them, you know. Starting off the top: TThe Little Mermaid. I had no business thinking I could score a film. I had never done it, and we had no business thinking we could reinvent the animated form, but [The Little Mermaid] just stunned people, and it exceeded all our expectations. It was just an incredible phenomenon.
"Beauty and the Beast because it still continues to run on Broadway, to now being re-released. It has reached the classic status, and also Howard never lived to see it. He died six months before it came out, and he barely lived to hear the songs recorded, so it was an emotionally wrenching experience to write that project.
"Aladdin, we had written the entire score, and then found out after Howard died that half of it was no longer useful because [Aladdin's] mother and the sidekicks had been cut [from the film]. So Tim Rice stepped in, and therefore I wrote it. That was a project in which I had to take over and be Howard. I had to be taskmaster with Tim. I had to say, 'This is the style of the song. This is the template. We've got to match Howard's style here,' and I really learned how to take a much more active role on that project.
"On Pocahontas, I was with a new lyricist. That was the one in which everybody said, 'Okay, this is when this phenomenon should stop,' and Pocahontas sort of carried it one more time through. It won two Academy Awards and had 'Colors of the Wind.'
"[The] Hunchback [of Notre Dame], I think, is the most ambitious score I've ever written.
"Hercules was [with] David Zippel and those really clever lyrics and again. Those projects were coming out at a time where there was more cynicism about animated musicals. It was harder to sell them, but I'm really proud of Hercules. Every time I listen to the score, I think it was one of my best.
"And I'm proud of Newsies, in spite that it died at the box office. I see everywhere kids doing little productions of it. Hopefully now we'll be doing a full theatrical version of Newsies. Every one of these projects is special to me."
Are you excited about Beauty and the Beast coming back?
Menken: "I'm really excited about it coming back. I can't wait to see it on IMAX. And we've got back 'Human Again' which had been written for the film and then was taken out because we hadn't figured out how to make it work. We made it work for the Broadway show, and now it's back in the picture."




Alan and others comment on songs from Pocahontas (1995):

Alan and others comment on songs from The Hunchback of Notre Dame (1996):



1998
Nominated for Best Song
With David Zippel (lyrics)
"Go The Distance"
From Hercules (1997)
1997
Nominated for Best Score
With Stephen Schwartz
The Hunchback of Notre Dame (1996)
1996
Won for Best Score
With Stephen Schwartz
Pocahontas (1995)
1996
Won for Best Song
With Stephen Schwartz
"Colors of the Wind"
From Pocahontas (1995)
1993
Won for Best Score
Aladdin (1992)
1993
Won for Best Song
With Tim Rice (lyrics)
"A Whole New World"
From Aladdin (1992)
1993
Nominated for Best Song
With Howard Ashman (lyrics)
"Friends Like Me"
From Aladdin (1992)
1992
Won for Best Score
Beauty and the Beast (1991)
1992
Won for Best Song
With Howard Ashman (lyrics)
"Beauty and the Beast"
From Beauty and the Beast (1991)
1992
Nominated for Best Song
With Howard Ashman (lyrics)
Both "Be Our Guest" and "Belle"
From Beauty and the Beast (1991)
1990
Won for Best Score
The Little Mermaid (1989)
1990
Won for Best Song
With Howard Ashman (lyrics)
"Under the Sea"
From The Little Mermaid (1989)
1990
Nominated for Best Song
With Howard Ashman (lyrics)
"Kiss the Girl"
From The Little Mermaid (1989)
1987
Nominated for Best Song
With Howard Ashman (lyrics)
"Mean Green Mother from Outer Space"
From Little Shop of Horrors (1986)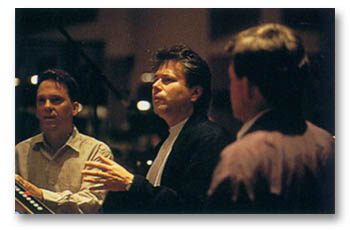 Join the Animation Mailing List!
Please enter your name and email address:
Name:
Email:
SubscribeUnsubscribe