Information * Segments * Roy Disney interview * Interesting Facts * Making "Rhapsody"

Running Time: 85 minutes
Release date: January 1, 2000 (4-month IMAX run) & June 16, 2000 (4-week 35mm run)

Featuring: Bette Midler, James Earl Jones, Quincy Jones, Angela Lansbury, Steve Martin (stay after the end credits for a tiny surprise!) and Leopold Stokowski

Budget: $80 million
U.S. Opening Weekend: $2.239 million over 54 screens (IMAX), $2.911 million over 1,313 screens (wide)
Box-Office: $50 million in the U.S. during its 4-month IMAX run in 53 theatres, $64.5 million worldwide in 75 theatres only! $10.507 million in 1,313 regular multiplexes, $90.7 million worldwide
In late 1999, Disney Magazine caught up with the film's executive producer, Roy Disney -Walt's nephew- to discuss his pet project.

Let's go back to when you decided to do Fantasia 2000. Did you think of it as a sequel or a continuation?
Roy Disney: The title for quite a while was Fantasia Continued because the notion was of a continuation. The very first version was, well, let's keep half of the old one and make half a (new) movie - which might have been what Walt would have done. Then wait a few years and make four or five more pieces...
When did you decide to do Fantasia 2000? Was it when Fantasia was about to come out on video?
Roy Disney: Well, with me, it was way earlier than that. I always love Fantasia. Because of the sort of wondrous variety that it brought, it was like a sampler: This one's a cherry cream, that one's a chocolate-covered nut, or something. I really loved that idea of variety. Dad (Roy O. Disney) came home one time not long after the film was out, and he said, "The next piece Walt wants to do is 'The Flight of the Bumblebee,' and he want to fly the bee all the way around the room is stereo!" And that stuck with me, that notion - that there was the potential for this thing to continue.
But more recently...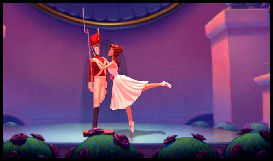 Roy Disney: At some point Michael (Eisner) asked me what's my favorite movie, and I said, "Fantasia". And be the way, I said, here was Walt's concept for it. I saw his eyes kind of light up. I'd always though, well, great idea but it'll never happen. At that moment, we hadn't made "The Little Mermaid" or "Beauty and the Beast". I actually had, even then, two or three pieces of music that I thought would be wonderful, "Pines of Rome" wound up in the show.
What were the criteria for choosing the music?
Roy Disney: It had to be description music, it had to be something that had the sense of a story progression... and it also had to be just appealing to use as music.
Was it fun picking the music?
Roy Disney: Oh, yeah, I've always had an affection for classical music, which goes back again to Walt and my dad helping Buffy Chandler out when she was trying to get the Hollywood Bowl reenergized (in the 1940s and 1950s). And
they both wound up with good box seats, which I inherited from Dad. (My wife) Patty and I were among the people who invented the notion of picnics before the music stated, I'd run home at six o'clock and we'd get up there as fast as we could, lay out a picnic basket and listen to the music, and go... oh, wow!
How daunting was this assignment, knowing that you're taking Walt's great masterpiece and re-creating it?
Roy Disney: The first thing that goes through your mind is that this is pretty audacious, to (update) what a lot of people say s a masterpiece, and I think so, too. But that's not what we're doing. We're doing the thing that Walt wanted to do in the first place, which is to go on with the idea. There's some quote where Walt says, "It's the best idea I ever had I could never improve on it, I can only add to it or embellish it," or something like that. So from that point, someone's (bound to) say "how dare you" to us. I'm sure I'll be hurt, but you gotta move on. What if you didn't do it, what if you stood around and said, "Look at this wonderful idea," and never did it? That's a dumb way to live your life.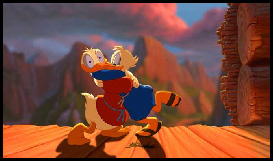 How do you feel about giving Donald equal time with Mickey? Donald's really the hero of "Pomp and Circumstance.?
Roy Disney: Oh, I love that idea. He always was second banana, but not by much. It was great to be able to site down and say, "Okay, we can really animate Donald the way we remember him." The other fun thing was that you don't get any dialogue for him, so you don't have to worry about whether you can understand him or not.
How would you describe your creative role in the whole process?
Roy Disney: I dunno, ask somebody else. I guess I'm... the Walt thing about the little bee going around pollinating, I thing I kind of played that part... I thank Michael for trusting me. And I really am enormously happy. I think it's really gonna blow people away.



Larry Pontius revealed to Jim Hill Media that he developed an abandoned version of Fantasia II in the 1970s. "For whatever its worth, my idea for Fantasia II included quadraphonic sound and songs from the 'classic' American music composed since the original. It would have included everything from West Side Story to the Beatles, with Elmer Bernstein conducting the New York Philharmonic Orchestra. Somewhere inside the idea was the thought that we could get both adults and kids into the movie and help a little in getting them each to understand the other's choice in music. Again, Bob Moore did a poster--featuring an alligator playing a cello."

Early test screenings rated the 90-minute version of the film "too long and slow-moving". Roy Disney reluctantly agreed to cut 2 segments: Tchaikovsky's Nutcracker Suite from the original Fantasia, and Ponchielli's Dance of the Hours. The line-up was changed at the last possible second, and all the press materials, posters, CD artwork, had to be sent back to the Art Department so all Nutcracker elements could be removed.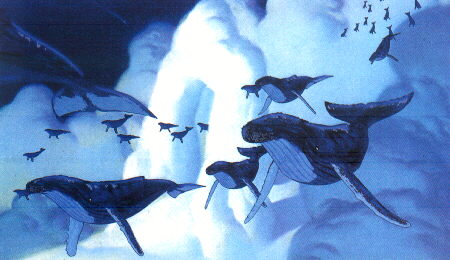 In the Pines of Rome sequence of Fantasia 2000, one of the icebergs bears a suspicious resemblance to the Matterhorn at Disneyland.

Eric Goldberg directed the segments Rhapsody in Blue, and you can tell! As the out-of-work man is leaving the diner at the beginning of the segment, Eric Goldberg's name can be seen listed on the menu posted on the wall; the hotel/high-rise apartment that the little girl and the hen-pecked husband leave from is called "The Goldberg"; hidden directly above the revolving door of "The Goldberg" is Eric Goldberg's wife's name: Kathleen!

Goldberg, a stickler for detail, made sure that the pianist's fingers hit the correct keys!

The hen-pecked husband character in the Rhapsody in Blue segment is based (looks-wise, anyway) on John Culhane, the man who wrote the book (literally!) on Fantasia and Fantasia 2000. He is also the man animators based Medusa's henchman on in The Rescuers -you can even see the resemblance between those two characters!

For Rhapsody in Blue, Eric Goldberg was inspired by the artist style of Al Hirshfeld, caricaturist -just like he was when he animated the Genie in Aladdin. In honor of Hirshfeld's tradition of placing hidden Nina's in his art -Nina is his daughter's name-, the art team placed hidden Nina's in the piece. One is found at the bottom of a toothpaste tube and the others are disguised top and bottom of the domineering wife's fur coat. There is a hidden "Nina" in the list of items on the bill at the pet store in the Rhapsody in Blue segment.

More than 100 names of Fantasia artists are hidden in the city's background landscape. When you watch the Rhapsody in Blue section of Fantasia 2000 very closely, you will notice howmany of the names of the artists have been used in the scenery. For example: the name Doug is used over 20 times at the swing-door, in the doorpost... and the name Jessica is on one of the vases next to the door... Also watch the menu's in the little restaurant... and the windows of all the shops... hundreds of names will appear if you watch carefully!

During James Earl Jones's introduction to Carnival of the Animals, a small model of The Lion King's Mufasa (for whom Jones supplied the voice) appears on a table behind him.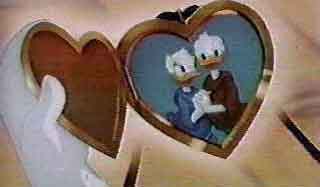 The flamingo playing with the yoyo was inspired by Mike Gabriel's use of a yoyo to shrug off boardome while filming flamingos at zoos to capture their motion.

In the Pomp and Circumstance sequence, Noah's ark is shaped like Donald Duck's body.

Fantasia 2000 became the fastest-grossing large-format film in industry history. It earned $2.6M in 54 IMAX screens when it first opened on January 1st, 2000 -but made only $2.8M when it opened in 1,313 normal theaters all across North America on June 16th of that same year.

In June 2000, Roy Disney confirmed that there were plans for another Fantasia, at the time set for a 2006 release (though word is that the film will either be "fast-tracked" to meet a 2005 deadline, or paced down to be released in 2010 since Eisner wants the film to hit a "title friendly" numbered date!). James Levine was reinstated for the occasion to conduct new pieces of music, and had already finished conducting a modern piece of music based on an African rhythm: it involves a group of children in a small township in Africa, who watch a feather float through the air. Seeing this, the children get an idea and make kites to fly in the air. Adapting this modern piece of music continues the tradition of Fantasia as an experiment and vehicle to explore different cultural music.



Taken from the December 1999 article by Charles Solomon, "Rhapsody in Blue: Fantasia 2000's Jewel in the Crown" published by Animation World Magazine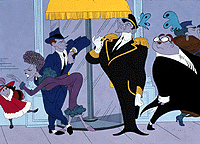 The most charming piece in Walt Disney Feature Animation's Fantasia 2000 is the stylish portrait of New York in its palmier days, set to George Gershwin's 1924 "Rhapsody in Blue" and drawn in the style of caricaturist Al Hirschfeld. The segment was directed by Eric Goldberg, who animated the mercurial Genie in Aladdin; the art director was Susan Goldberg -- a rare example of a husband and wife creative team in animation.
"Rhapsody" follows four restless individuals through `30s Gotham. Rachel, a tiny girl, is weary of being dragged to endless private lessons by her governess; John longs to be free of his battle-ax wife and her spoiled lapdog. Sad-eyed Joe searches for a job, while Duke, an African-American construction worker, dreams of being a jazz drummer. A series of coincidences and the magic of the city make each of their dreams come true.
"New York embraces all types of people, and they're all walking the streets at the same time," explains Eric. "How people of such diverse backgrounds affect one another when they live so closely together really interested me. We devised a story where they all help each other achieve their goals -- without ever realizing that they're helping one another. `Rhapsody' has always been one of my favorite pieces of classical music, and the combination of Hirschfeld and Gershwin to evoke 1930's New York seemed like a real winner."


Eric got the idea for "Rhapsody" when he was finishing work on Aladdin. He approached Hirschfeld, who gave his blessings to the project. After completing the "Carnival of the Animals" segment of Fantasia, on which he and Susan also collaborated, Eric storyboarded the entire film. When production halted on the feature Kingdom in the Sun to rework its story, the Goldbergs pitched "Rhapsody" to Disney Feature Animation President Tom Schumacher as a down time project for the Kingdom artists. They received the go-ahead to make it as a short.
Hirschfeld's celebrated caricatures display a marvelous elegance and economy of line. But they're static works that show their subjects from a single perspective: "Rhapsody" required the animators to move the characters in three dimensions while maintaining his polished minimalism.
"I animated the scene where Gershwin himself plays the piano, so I had to deal with making the figure look like a Hirschfeld drawing turning in three dimensions without losing any of the design qualities," says Eric. "We shot live-action of Ralph Grierson, who plays the piano in the piece, then Kent Holliday and I sat down together and determined which fingers hit which keys on which notes. But not only did the fingers have to hit the right keys at the right time, they had to look like Hirschfeld fingers -- I had to curl one up or crack a knuckle in a way that resembles a Hirschfeld drawing. It was fraught with challenges, but it was darned fun to do."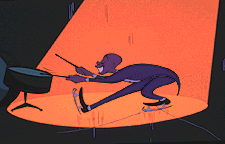 It's obvious that the other animators also enjoyed making "Rhapsody." There's an almost tangible exuberance to the animation. The characters move with a grace that is markedly freer than their counterparts in the recent Disney features.
"We had touched on Hirschfeld's style in Aladdin, but we went a lot further in this film, trying to do his line," recalls animator Andreas Deja. "The fascinating thing about Hirschfeld's figures is the economy and fluidity of that line: one S-curve can describe a whole body; ordinarily in animation, we break a figure down into a series of body parts that move in individual ways. When you're dealing with a Hirschfeld design, everything follows one main rhythm. It forces you to think very clearly and directly, and in a more graphic way."
Preserving that elegant line was a major concern: "Emily Jiuliano, who was our co-head of clean-up, was our `Keeper of the Line,'" says Eric. "She made sure that everybody got a Hirschfeld line on the screen with a beautiful thick and thin. She was quality control and artistic control, and did a spectacular job." But "Rhapsody" is more than black lines, however graceful. The characters move through a brightly colored city that echoes their various moods. Its bold colors and graphic backgrounds recall the more stylish UPA films of the early `50s.


"Color has an emotional value, and you can emphasize the emotions in a scene by adding or taking away colors," explains Susan. "For inspiration, I went back to a book Hirschfeld did about nightclub singers and dancers called `Hirschfeld in Harlem,' and to the books he did with S.J. Perlman. He used areas of flat color behind black and white drawings to bring out the line. I chose my palette from those `30s and `40s colors: grayed blues, a lot of black, a lot of red. Having lived in New York, I also tried to bring in the city's smoky blues and purples."
Appropriately, many of the characters in this colorful city are caricatures: John is modeled after author John Culhane; Rachel is based on the Goldberg's younger daughter. Eric, Susan and young versions of Hirschfeld and his second wife, Dolly, can be glimpsed in the crowd that emerges from a posh hotel.
Although overtime and last-minute crunches are common in animation, "Rhapsody in Blue" was completed two months ahead of schedule and under budget. The heads of the Disney studio added "Rhapsody" to Fantasia 2000, when they decided to eliminate all of the material from the original film except "The Sorcerer's Apprentice."


Eric showed Hirschfeld a version of "Rhapsody" that was fully animated and about 60% in color on a visit to New York, shortly before the artist's 96th birthday. "I was really Mister Sweaty Palms," he recalls. "What if he didn't like it?" Hirschfeld was delighted with the film; his wife Louise called it "the best birthday present he ever could have gotten."
"I'm very pleased with what they did: it's a marvelous job," Hirschfeld said in a recent telephone interview. "Eric seems to have understood what I've tried to do in my drawings. Again, I'm very pleased with it, and I'm anxious to see the finished film."


Join the Animation Mailing List!
Please enter your name and email address:
Name:
Email:
SubscribeUnsubscribe